> Coat of Arms > Flag > History > Interesting Facts > Town Crier > Town's Logo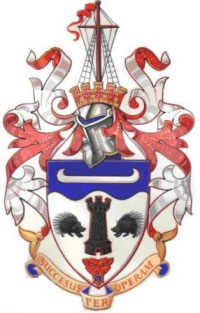 The Town's Coat of Arms was registered......
Mast & Rigging represents masting operations for the British Navy and shipbuilding industry between 1700-1878.
Coronet with Maple Leaves represents the arms of the municipality and symbolizes Fort Hughes. CFB Gagetown and maple leaves for Canada.
Porcupine symbolizes the armouries of the D'Amours family who represent the first French colonists to arrive on the banks of the Saint John River.
Canoe and Wavy Blue Band represents the Oromocto and Saint John Rivers and Canada's first culture.
Tower represents Fort Hughes, built during the American Revolution 1771-1784, and CFB Gagetown.
Leopard Head represents the arrival of the English colonists on the banks of the Saint John River.
Town's Motto "Succesus per Operam" means "Effort Brings Success".