> Fire Department > Contact > History > Facilities & Equipment > Personnel > Recruitment > Fire & Safety Prevention > Flood Information > Safety Education > Related Links
A Brief History of the Oromocto Fire Department:
Oromocto had its first major fire on 21 June 1918. The fire started beside the home of Mr. John Malone, in a barn on Main Street. Four houses and several barns were burned before the fire died at the river.

The next year on 30 September, a fire ripped through Town destroying thirty houses, one large store, two small stores, all four churches, and several barns and smaller buildings. This fire was believed to have started by a spark at the lumber mill. This all happened before there was an organized fire fighting force or equipment available.

In 1931 a volunteer fire department was started in Oromocto. They started off with a new pumper with hose, and then later added a large tanker truck. When the Memorial Town Hall was built, the fire hall was located in the basement of the new building. The volunteer department was fully functional up until the construction of CFB Gagetown.

With the opening of CFB Gagetown, Oromocto's population increased from several hundred to approximately 10,000 people. Effective 1 January 1959, a full time paid Fire Department was formed and the volunteer department was disbanded.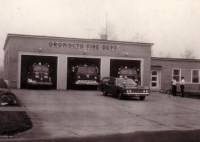 The Department moved into the new fire station on Miramichi Rd. on 10 August 1959 and consisted of the Fire Chief and nineteen firefighters. In 1960, six more firefighters were added, for a total of twenty-six firefighters working in a 4 platoon system.

The Firefighters of the Oromocto Fire Departmet became certified as the Oromocto Fire Fighters Association, I.A.F.F. Local 1576 in 1965.

The Oromocto Fire Department began providing ambulance services to the Town and surrounding areas in 1974. This continued until 1993 when the Region 3 Hospital Corporation took over.

With the transportation of dangerous goods becoming more and more frequent, the Oromocto and Fredericton Fire Departments formed a Joint Hazmat Team in 1988. The City of Fredericton continues to operate one of the Province's Heavy HazMat Teams and responds to incidents throughout the Province.

In 1999 the Oromocto Fire Department became a composite department, bringing back the volunteer firefighters. The volunteers operate respond as part of the front-line response to a number of types of incidents such as motor vehicle collisions, and structure fires.

Today, in total, there are four full time platoons, each with a Captain, a Lieutenant, and two firefighters, in addition to a number of holiday relief firefighters who are assigned to the platoons for much of the year. The Department is comprised of 23 career (3 Chief Officers, 16 fulltime, and 4 holiday relief) along with 30 volunteers.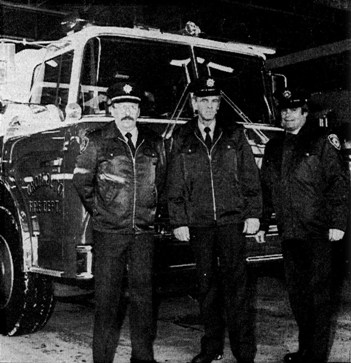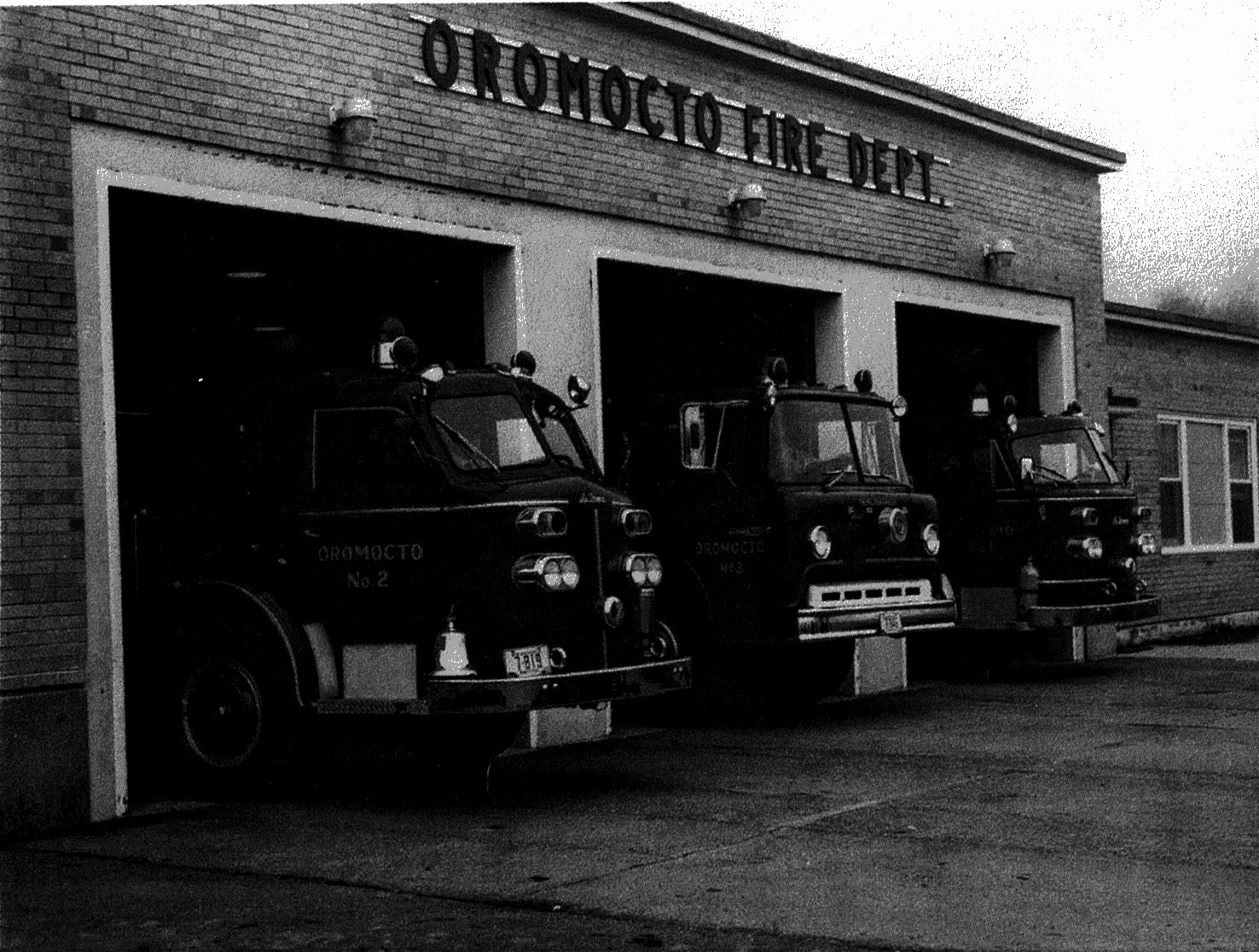 The American LaFrance Quad Pumper, the '59 Ford Tanker,
and the American LaFrance Triple Pumper
Peter Beals, Murray Simpson, and John Bradshaw