Use of "Outdoor Fireplaces" within Town Limits


The Town of Oromocto has a by-law prohibiting all open burning within Town limits. Limited exceptions to this by-law, as it relates to the use of "outdoor fireplaces" for recreational purposes on private land, have been permitted with decisions considered on a "case by case" basis . Homeowners may be given a permit (at no charge) from the Fire Department for use of these appliances. Burning may be prohibated due to increased risk of forest fires. Click here to see the NB Forest Fire Watch updates.

The following requirements apply:
The appliance must be a commercially manufactured outdoor fireplace covered with a suitable steel wire mesh which has 6mm (1/4 inch) openings.
The appliance must be located at least 3 metres (10 feet) from any combustible materials. This would include structures, fences, combustible patios and decks, trees and other vegetation such as un-mowed grass. This distance may be decreased if the appliance has been tested by a recognized testing agency, and the required distance is marked on the appliance or is available in the owner's manual.
In the case of rental property, a letter from the owner must be received, stating that the owner is aware of the use of the appliance, and that they have no objections.
There shall not be any burning or refuse (garbage etc.), petroleum products (gasoline, oil) or materials, such as leaves, which create large amounts of smoke, at any time.
The homeowner shall not burn at any time that the Department of Natural Resources and Energy's Forest Fire Index for Sunbury County reaches either

Very High or Extreme

.
The permit issued by the Fire Department may be revoked, without notice, at any time on complaint of excess smoke or unsafe burning.

To obtain a permit, please click here, fill out the form, and return to the Oromocto Fire Department at 50 Miramichi Rd. or contact us at 357-2201 to schedule a time for our crews to inspect your outdoor fireplace.
Examples of unsafe outdoor fire places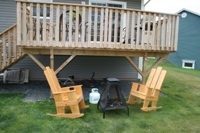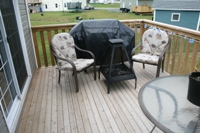 On the left - This fire place is far to close to all the combustables (chairs, house, deck, propane tanks)
On the right - A fire place should never be put on a deck. It could catch the deck, house, chairs, and other combustables on fire.
Examples of safe outdoor fire places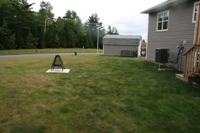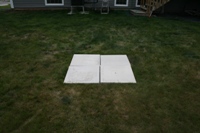 On the left - This steel fire place has 1/4" openings and is the regulation 3 metres (10 ft.) from all combustable materials.
On the right - Patio stones or concrete slabs like these are great for safety and cleaning.